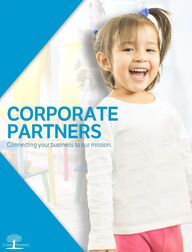 Return to flip book view
Corporate Partners
Page 1
CORPORATEPARTNERS Connecting your business to our mission.
Page 2
Emergency shelter and crisiscare to children birth to six.Holistic support to familieswith children birth to three.Families define their own crisis. Your support helps in situations of: High Parental Stress • Job or School Related • Medical • Mental HealthHomelessness • Domestic violence • Unsafe child care • Emergency respiteCrisis Nursery walks alongside families, resulting in...Reduced risk of child maltreatment • Improved parenting skills • Decreased levels of parental stressThe Johnson Family called Crisis Nursery asking for help. They wereexperiencing homelessness, food insecurity, and hygiene concerns. Mom andDad were both working full time, but spending their money on a hotel room toescape the cold. They struggled to get the support they needed, often notqualifying because their income looked to be enough on paper. The familyreceived rejection after rejection and quickly became overwhelmed withthoughts about "giving up." Crisis Nursery walked alongside the Johnsons when they were struggling tokeep up momentum. They were provided with food, hygiene supplies, crisiscare, and overnight stays to make sure their 18-month old was safe. Mom andDad continued to do what was needed to overcome their difficult situation.Eventually, their efforts paid off! The family was approved for an apartmentwith rental assistance.Together, we can create a meaningful partnership that is a win-win. You will help us care forchildren and walk alongside families experiencing crisis. We will help you connect with thecommunity and achieve your philanthropic goals. By providing free, low barrier programming and services to families with young children whenthey need it most - we can prevent child abuse and neglect from occurring in our community.We believe Asking for Help is a Sign of Strength.
Page 3
Mission Partners: Event Partners: Community Partners:
Page 4
Crisis Nursery is located at 1309 West Hill Street in Urbana, IL 61801Crisis Line: 217.337.2730 | Administrative Line: 217.337.2731 | Website: www.crisisnursery.netOur ExperienceCrisis Nursery joined the Champaign-Urbana community in 1984. We have served over since opening our doors.Our FamiliesOn average, from use Crisis Nursery's services each year. Weprovide support to in Champaign County.Our FinancialsAt least is invested directly into children and families in our community.Our ReachCrisis Nursery's website receives over and our social media posts reach over on average each month. We also send a monthly eNewsletter to , useGoogle Ads, local radio, tv, and more.20,000children680 + children 470 + families29 zip codes$.80 of every $11,400 users 11,000people 4,000 recipientsCrisis Nursery is the only emergency-based child care facility in Champaign County that is open 24hours a day, 365 days a year for the entire community to access with no fees or income eligibility.We believe that asking for help is a sign of strength.Crisis Nursery creates an "Island of Safety" dedicated to the prevention of child abuse and neglectby providing 24-hour emergency care for children and support to strengthen families in crisis.Services are free, confidential, and available for the entire community to access.